Terra Madre Kitchen: the Middle East
Hummus – ARAB-ISRAELI-PALESTINIAN
Chef Husam Abbas


Ingredients for 10 portions:
400 g of dried chickpeas, left to soak for 24 hours
120 g tahini (sesame sauce)
juice from one lemon
2 tablespoons extra virgin olive oil
12 g pine nuts
ice cubes
salt and pepper
cumin
fresh parsley

Preparation and cooking time: one hour plus soaking time for chickpeas
Rinse the chickpeas with cold water, strain and boil in a pressure cooker for about 40 minutes. After the chickpeas have cooled, place them in a blender with the other ingredients. Blend until the mixture becomes a smooth, dense puree and then place on a serving plate. Serve the hummus with a sprig of fresh parsley and, if you like, garnish with lemon slices. Hummus is usually eaten with unleavened bread.

Sheikh el Mehchi – Baked Stuffed Eggplant with Tomato Sauce and Basmati Rice - LEBANON
Chefs: Abir Kobeissi, Houssam Jafsouniali and Walid Ataya


Ingredients for 4 people:
5 eggplant, around 12-15 cm each
200 g ground meat
20 g pine nuts
240 g ripe tomatoes
olive oil
salt and black pepper
4 g tomato concentrate
160 g basmati rice


Preparation
Sauté the small eggplant. Cook the meat and pine nuts. The eggplants are cut in half and filled with the meat. They are baked in the oven together with the fresh tomato sauce. They are served with basmati rice.
Cooking time is around 40 minutes.

İhsangazi Bulgur Pilaf - TURKEY
Chef: Neva Kipi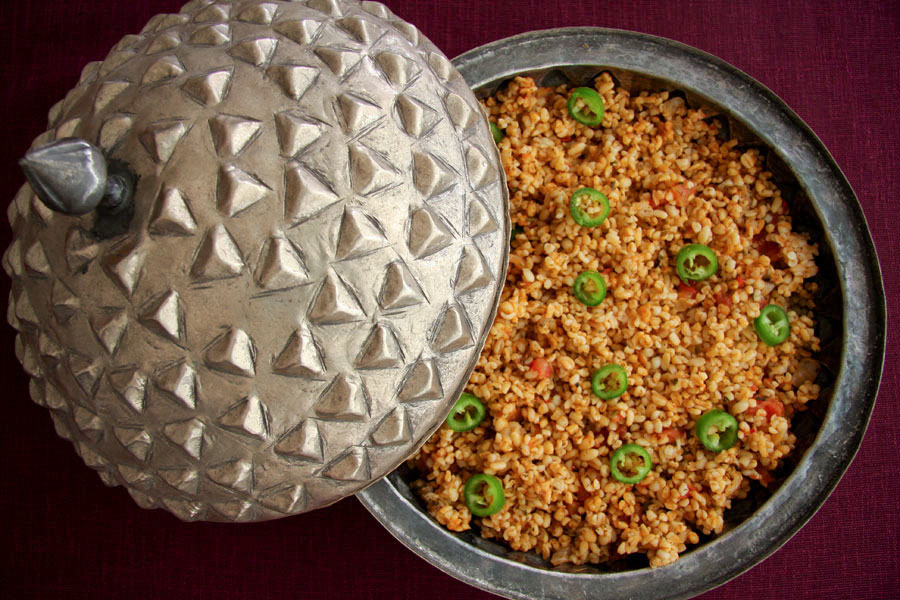 Ingredients for 4 people:

200 g Turkish bulgur, large grain, washed and drained
240 ml hot broth
1 medium tomato, diced
2 yellow onions, chopped
salt
green pepper
extra virgin olive oil

Preparation
The bulgur base consists of minced onions seasoned with pepper. They are sautéed directly in the pan until golden, then tomato and a teaspoon of chili pepper are added.
Water is added and the mixture is brought to a boil over high heat. The bulgur is added, then the mixture is stirred and brought back to a boil. As soon as it starts to boil again, the pot should be covered with a lid and the heat switched off. The bulgur is left to sit for 45 minutes.
The bulgur is then transferred to the bowls where it is mixed with the dressings.