Food has long been an important subject for artists, both in its production and consumption, particularly during the 19th century, when European society was rapidly industrializing and figurative art was at its peak. Think of the Wheat Fields series by Van Gogh or the Gleaners by Jean-François Millet, which depict the dignity and virtue of traditional agrarian life with such sympathy
and spirituality. As time moved on, art became more abstract, reflecting the alienation of the modern, urban world, yet in the meantime, the struggles in rural communities have only intensified. Today they are in greater need than ever of our attention, and indeed, of art's.
Amar Kanwar is an artist and filmmaker from New Delhi who has documented the impact of land grabbing in the Indian state of Odisha through his multimedia project, The Sovereign Forest. One part of that project, a film entitled The Scene of Crime, will be shown at the Castello di Rivoli throughout the days of Terra Madre Salone del Gusto 2016.
Odisha (or Orissa) is a territory rich in biodiversity that has suffered both socially and ecologically as a consequence of multinationals buying up once commonly-held land. As Amar explains, "I felt in a certain way that we didn't understand what we were losing, we couldn't comprehend the scale and extent of the loss, when this land was taken over by corporations."
To help mitigate that loss, Amar turned to a local farmer and teacher, Natbar Sarangi, of the Samadrusti group, who keeps a collection of rice seeds from over 270 different native varieties of rice that grow in the area, each with its own function and special purpose, be it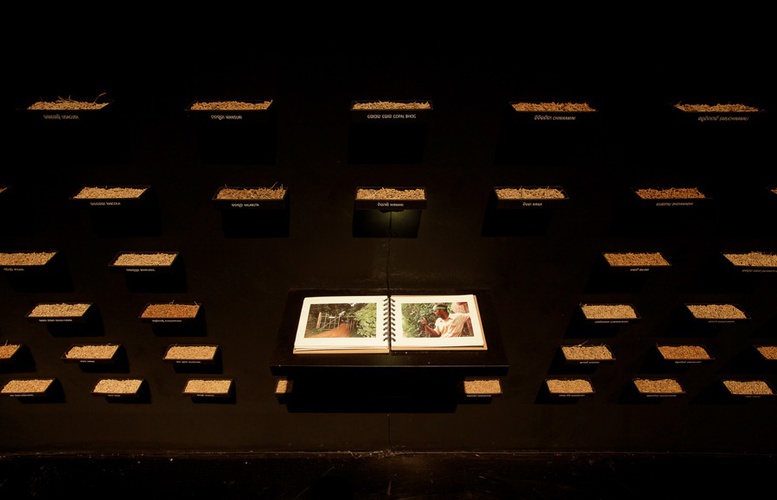 for sandy soil, post-cyclone conditions, or for cooking with different recipes. By putting this biodiversity directly on display, creating a striking visual impact of what is at stake when land is converted for monocultural agriculture, Amar aims to assist in the "preservation of a knowledge system" which has been built up over hundreds of years and could be wiped out in a frighteningly short space of time. This, the artist says, is a crime, and his art is an attempt to collect evidence of that crime. "It's not legally valid forensic evidence, but it may be more valuable in comprehending the nature of the crimes taking place. Governments and agricultural corporations are engaging in colossal consumption and destruction of these lands. We need a political response, but there also needs to be a cultural response in the general public, combined with a political struggle. Art is just one aspect of that."
Presenting Amar Kanwar's work at the Castle of Rivoli will be its director, Carolyn Christov-Bagarkiev, one of contemporary art's most influential and powerful figures. She explains more about the value of contemporary art in raising awareness. "Sometimes in art it can feel like preaching to the converted, so if the art is also connected with activist groups it brings a greater depth and density of action. People have ideas about what art is and isn't, and in lots of documents, like legal actions, there is no place for poetry. Yet poetry is of the essence in artwork, and when knowledge is transmitted through emotional, synaesthetic and metaphoric ways, the world moves forward. Political situations have been resolved through the power of the imagination. In that sense, art can be evidence. We can use it to resist the injustices in the world."
Beyond The Scene of Crime, Carolyn and Amar will be presenting a conference at the Carignano Theater, "Our Relationship with the Earth Through Contemporary Art", exploring art's capacity to aid in the struggle for a more just world and a healthier planet. One item on the menu will be seed banks, a necessary "last line of defense" against the loss of agricultural biodiversity. As Amar says, the questions raised by the Slow Food movement, and indeed, agricultural communities around the world, demand a response. Seeds, and the fact we need to protect them, have a strong political resonance. "We need to look at human violence, and bring the experience of that violence to center stage. What violence may lie behind the food we have eaten today?"
To finish on a lighter note, we ask Carolyn and Amar what they've eaten today:
Amar: "After three days in France and three days in Athens I was totally overwhelmed, I felt like a different person by eating differently. Now I am back in Delhi, I'm happily eating dry fried okra with chillies and onions."
Carolyn: "Coming back from Genoa last night I stopped at a B&B in Tortona, my mother's town, where they make a wine called Timorasso," (itself an example of a traditional grape variety brought back from the brink of extinction by determined local producers) "and in the morning we had some apple sauce with breakfast that is made with apples grown in the garden. When they're fresh, the apples are used decoratively inside the house, as art, and when they age they're used to make the sauce. A more direct example of the interaction between aesthetic decoration and food!"
Carolyn Christov-Bagarkiev and Amar Kanwar will be holding the conference "Our Relationship with the Earth Through Contemporary Art" at 11am on Friday September 23 at the Teatro Carignano, while The Scene of Crime will be screened the same day at the Castello di Rivoli at 5pm. During the evening, Christov-Bagarkiev and Kanwar will be joined by a chef well known for its ability to create a direct relationship between food and art, Davide Scabin. As well as talking about the importance of safeguarding environmental biodiversity, Scabin will also be serving two dishes made using ancient varieties that have only been saved thanks to heroic farmers.
As well as presenting The Scene of Crime at Terra Madre Salone del Gusto, Christov-Bagarkiev and Kanwar will also be participating in the conference "Our Relationship with the Earth Through Contemporary Art", showing how art can convey a message of responsibility and exploring its potential for representing the geopolitical transformations that affect the environment and the landscape. They will also talk about seed banks, like the Svalbard Global Seed Vault, a gigantic safe in the middle of the ice a thousand kilometers from the North Pole and one of the last lines of defense against the loss of agricultural biodiversity. As Kanwar says, the problems highlighted by Slow Food and by rural communities around the world demand a response. Seeds, and the need to protect them, have a strong impact from a political perspective. "We have to open people's eyes to the violence that humans are responsible for, and bring it center stage. How much violence is there behind our everyday food?"
Book your place at the Teatro Carignano conference
Book your place at the Castello di Rivoli event
Slow Food Internazionale
communication@slowfood.com
Amar Kanwar, The Sovereign Forest, 2013. Installation view at dOCUMENTA 13, Photography by Henrikstromberg. Courtesy of the artist.
Amar Kanwar, The Sovereign Forest, 2013. Installation view at documents 13, Photography by Henrikstromberg. Courtesy of the artist; Amar Kanwar, The Sovereign Forest