The diverse cooking traditions in Russia come from its long history of peasant life and survival in the country's harsh climate. When we think of Russian cuisine, we might not be able to name so many dishes,yet the regional diversity of this enormous land preserves many lesser-known gastronomic treats. The twin brothers Sergey and Ivan Berezutskiy are bringing this hidden treasure out into the open, redefining classic Russian cuisine in their restaurant Twins, in Moscow. We asked the twin chefs a few questions ahead their appearance at this year's Terra Madre Salone del Gusto in Turin.
Tell us how you started cooking – what are your earliest kitchen memories?
Our first memories of food are the meals made by our mother and grandmother. We grew up in the south of Russia, so the first memory of food is, of course, bortsch.
Prior to opening Twins, the identical brothers worked in various countries, separated from each other for years, increasing their knowledge. However, they held onto the same gastronomic dream throughout this time: to open a restaurant that would change the reputation of Russian cuisine, and banish old stereotypes.
What is it like working together as twin brothers?
We have worked separately for a long time, and even in different cities: Sergey in Moscow, Ivan in St. Petersburg. But long ago we had the idea to open a restaurant together. Sergey decided to participate in the San Pellegrino Young Chef Award, and we agreed that if he won it, we would open a restaurant. And he won. At first it was difficult, we even divided the kitchen into two parts, but after the first six months we got used to it and now work together with no issues. Each dish, no matter who invented it, must be approved by the second. There are, of course, debates on this issue, but we have learned to deal with them.
The Berezutskiy brothers are reconstructing the common perceptions regarding Russian dishes by focusing on regional diversity. They succeed through their regular trips to remote spots within their native land that provide novel approaches to the use of ingredients.

What inspired your decision to focus on pre-Soviet cuisine?
We would not say that we are focusing precisely on the pre-revolutionary Russian kitchen. Of course, we are very interested in Russian cuisine throughout its history, from its beginnings to the present state. But we grew up in the Soviet kitchen, so it is impossible to completely abandon it. Some flavors that we remember from childhood are still somehow manifest. We are more interested in Russian products and tastes from different regions. Russian cuisine before the revolution was very regional, like in Italy: people in the Urals did not really cook or eat similarly to the people in St. Petersburg. After the revolution, this changed, and for many reasons: large migrations, changes in the set of products available, etc. But even now bortsch soup in our homeland, in the Krasnodar region, is cooked in a different way compared to Moscow. In our kitchen we try to combine foods peculiar to different regions to create an integral Russian taste.
The wealth of Russia's vast territory inspires the Berezutskiy brothers to create dishes that highlight how customs have changed throughout the country. They are amazed by this variety of local dishes that are unheard of even within the country, specific to one town or region.
What is your feeling about the current gastronomic scene in Russia?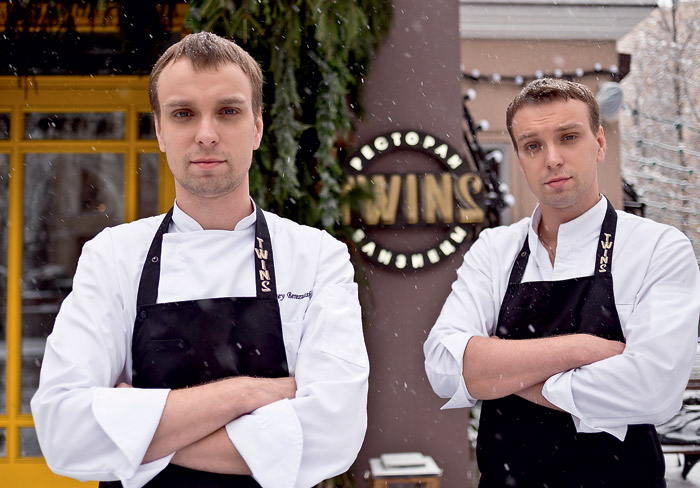 We really like what is happening in Moscow and other cities. The interest in gastronomy is increasing, there are more people who are very interested in what they eat and who want to try something new, something which they are not used to. The development is very fast, young chefs go to intern in the best restaurants in the world. Moscow receives more and more foreign tourists who are interested not only in traditional restaurants, but also in more innovative places. We often see them in our restaurants.
Widely known today as the pioneers of the new Russian cuisine, they try to innovate pre-Soviet dishes and reflect on the contrasts and similarities between regions. They are also very committed to using ingredients that originate within the country.
What can the people expect from you at Terra Madre Salone del Gusto?
We will try to show some interesting Russian ingredients  and present the integral Russian taste that we are looking for.
Sergey and Ivan Berezutskiy brothers will be our guests at this year's Terra Madre Salone del Gusto, here to inspire us and change our assumptions on Russian cuisine in two separate events: in the first, Two Faces of the Same Rouble they'll be showcasing the richness of Russian cuisine in an extravagant Dinner Date, and in the second, Travelling Along the Trans-Siberian they'll be teaching us how they do it, in what promises to be an enlightening Cooking School. These events have been made possible with the support of Polugar. See you there!
Slow Food International
communication@slowfood.com
Photo credits:
sobaka.ru, "TWINS" Facebook page.